Rainstorm Solutions is a Rainwater Harvesting and Storm Water Management Company focusing on the use of sustainable solutions for water. Founded in 2008 from a passion for water preservation, Rainstorm Solutions has expanded quickly. With offices in Durham and Wilmington, NC, they are proud to be a complete Storm Water Management company that maintains over 150 HOA's in NC and SC. Rainstorm Solutions manages all facets of Storm Water Management for these communities including ditches, swales, ponds, lakes, fountains and Storm Water devices. They also provide other services including paving patches, overlays, potholes and concrete repair.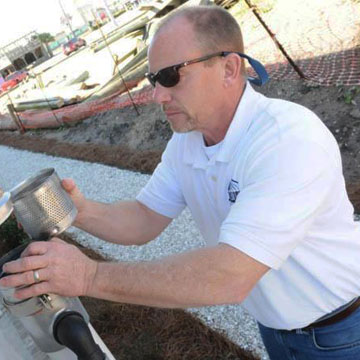 Bill Aldridge, President & Founder

Bill's background of over 30 years of experience in business enables him to understand what his clients are looking for when it comes to delivering a product or service.
In today's ever increasing and demanding environment Bill excels in offering the latest ideas for storm water control measures (SCM's) and Rainwater Harvesting Systems that exceed his client's expectations.
Bill continues to stay up to date on the latest available practices and trends by attending seminars and conferences. He is a member and an Accredited Professional of ARCSA (American Rainwater Harvesting Catchment Systems) which is the nation's leading rainwater harvesting association. He has also received extensive training from NCSU's Bio and Ag Engineering Dept. for Storm Water Control devices and maintenance. He is certified for confined space entry and is a certified SCM Inspector & Maintenance Professional.
He understands the issues that developers, land owners, Engineers, Architects, Property management professionals and HOA presidents face every day, and can provide the solutions and services it takes to fix the problems.
Bill is also active in the local HBA and a member of the NHBA, The Cape Fear GBA and the NC Coastal Federation.
Mike Heath, Vice President

Mike is Vice President of Rainstorm Solutions and manages our Wilmington Region with his 20+ years' experience in Construction & Property Management. He is a US Marine Corps Veteran and is very active in the community.
Mike holds numerous Certifications and Licenses including: Level II NCDOT Erosion and Sediment Control/Storm Water Site Management, OSHA 30, United States Army Corp of Engineers – Construction Quality Management, Certified Defense Privatization Manager II, Registered Indoor Air Quality Manager and NC State Licensed Ground Pesticide Applicator with specialty in Aquatics.
Mike's accomplishments include installing Rainwater Projects for private residences, government facilities, Colleges and Universities. These Rainwater Projects range from small infiltration fields to installations of storm water devices up to 8′ X 8′ boxes and pipes up to 48″ in diameter. Mike is also NC State Storm Water BMP Inspection & Maintenance Certified which allows him to manage and maintain numerous Lakes and Ponds within the Eastern North Carolina territory.
Jim Gerow, General Manager – RDU Location

Jim joined our team in October of 2015, and brings with him over 30 years' experience in the Construction Industry from heavy highway to residential work. Jim holds Construction Management Certifications from Wake Technical College, NCDOT Level 2 Erosion Control License, OSHA 10 hrs. Certification, MSHA Part 46 Certification, Confined Space, Excavation sub part P and other manufacturer certifications.
Jim is very well versed in all aspects of Stormwater Management. He understands what the customer needs and provides successful solutions to any Stormwater problems that may arise.
Jim has extensive Land Clearing, Site work, Utilities and Concrete Construction experience in the Commercial and Residential project fields. Jim is also a USCG Veteran and a Volunteer for counseling people with alcohol and drug problems.
Hank Fortune, Field Supervisor – RDU Location

Hank started with Rainstorm Solutions after 20+ years in the Hospitality & Service Industry. His previous experience with pumps, controllers, plumbing and switches, proved to be beneficial to our RWH scope. Hank began with RS as Service Manager and earned the title of District Manager within a short period of time. Hank's ability to assess situations and solve problems quickly and efficiently has been of instrumental value in both the RWH and Storm Water Management aspects of Rainstorm Solutions.
We trust Hank with the knowledge and commitment to tackle any job that comes his way. Outside of working at RS, Hank enjoys being active in nature. Camping, biking, and hiking are some of his favorite activities and he has never met a stranger. Hank is NC State Certified in BMP Maintenance & Inspections, Herbicide & Aquatic pesticides and First Aid/CPR.
Office Manager – RDU Location
Vince Devito, Marketing/Operations Manager – Wilmington Location

Vince's engineering/technical experience and expertise began in the oil field service with semiconductor materials and more recently expanded into Stormwater Industry. His storm water experience includes planning, design and calculations of BMP's (SCM's) and their installation. He has installed dozens of systems in the Wilmington area, primarily infiltration trenches. He also does DOMR business development and customer service for Rainstorm. He is certified in NC for Storm water BMP Inspection & Maintenance and is working on an Erosion and Sediment Control Certification.
Tim King, Field Supervisor – Wilmington Location